Join us for Day 1 of this year's Soil Regen Summit to learn about the techniques used by leading Regenerative Agriculture and Ecosystem Restoration experts from around the world. This year we've once again brought together pioneers and emerging voices in the movement to share their insights along with some of the challenges they have faced over the years.
The theme for Day 1, Tuesday March 15, of Soil Regen Summit 2022; Farming for the Future is "What is Regenerative Agriculture?"
Here's the Speaker lineup for Day 1:
Colin Andrews, Chair of The Tiyeni Fund
Colin joined the team of Tiyeni, our charity partner for the Soil Regen Summit, in 2013. On Day 1 of the Summit, Colin will present on the topic of "Livelihood Problems for Malawi farmers." He will explain the extent of malnutrition and hunger due to decreasing productivity of farmlands and, in some communities, abject poverty. Colin will also describe solutions to those challenges.
Rick Clark, Farmer, founder of Farm Green Consulting
Rick Clark is a 5th generation farmer in Warren County, Indiana where he and his family operate 7,000 acre Clark Land & Cattle. Rick believes in the importance of soil health, and successfully utilizes regenerative practices such as cover cropping and no-till methods. His crops include corn, soybeans, wheat, alfalfa, and field peas.
Darren Doherty, CPAg (AIA), Farm Planner, founder of Regrarians Ltd.
Darren will speak about his Regrarians Platform® which he describes as the most comprehensive agroecological planning, development and management framework available today. The platform has many thousands of users worldwide working in all climates and all landscape scales to regenerate their local ecosystems and communities. Darren will outline the platform using examples of it in action.
Dr. Elaine Ingham, Soil Biology Pioneer, Soil Food Web School Founder
On Day 1, Dr. Ingham's presentation will be "What is Regenerative Ag: The Return of Life to the Soil." An internationally-recognized leader in soil microbiology, Dr. Ingham has collaborated with other scientists and with farmers around the world to further our understanding of how soil organisms work together and with plants.
John Kempf, Farmer, founder of Advancing Eco Agriculture
John's presentation is entitled "Plant Health Creates Soil Health." It is commonly said that it takes healthy soil to produce healthy crops, but what does it take to produce healthy soil? John will talk about the ways in which healthy plants support healthy soils.
Nicole Masters, Author, Agroecologist, founder of Integrity Soils 
The title of Nicole's talk is "Next Big Ticket or the Next Big Shift?" and she will discuss how any practice can result in soil building or soil degradation; the outcomes are dependent on the hands and mindset of the people on the ground. Nicole will address the question "How can we connect more deeply with our contexts to supercharge our soils?"
Chris Trump, Educator, Korean Natural Farmer
Chris' presentation is entitled "The success and struggle stories of real commercial farmers using Korean Natural Farming." Chris speaks with commercial farmers from the U.S. and abroad using Korean Natural Farming technologies on their farms. He'll share what works, what's the bottom line, and what are the struggles in this series of conversations with revolutionaries in their industries. Wine grapes at scale, golf turf management, 1,000-acre mechanized row crops, cannabis, and an Irish dairy are all covered.
Here are the Panels for Day 1:
Live Panel Discussion 1: with Colin Andrews, John Kempf, Dr. Elaine Ingham, and Nicole Masters. Hosted by Dr. Adrienne Godschalx.
This discussion session will be followed by Meet-n-Greet sessions where each panelist will move into a breakout room for a moderated Q&A with audience members.
Live Panel Discussion 2: with Rick Clark, Darren Doherty, Chris Trump, and Adam Cobb, PhD. Hosted by Dr. Adrienne Godschalx.
This discussion session will be followed by Meet-n-Greet sessions where each panelist will move into a breakout room for a moderated Q&A with audience members.
We hope you'll join us for this great lineup on Day 1 – we look forward to learning with you!
We'd also like to remind you that this entire event is in support of Malawi-based Tiyeni.org. You can learn more about their work here and make a donation to support their efforts here.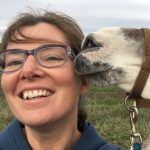 Heather Boright
Soil Food Web School Communications
Heather lives on a 4-acre homestead in the Willamette Valley of Oregon with her husband and a bunch of leafy, feathered, furry, and wooly macroorganisms. (Plus, of course, countless microorganisms.) She has a BSc in Environmental Education from Western Washington University and loves learning and writing about the science of the natural world.