As this year draws to a close, we are happily looking back on our 2021 Soil Regen Summit, an essential part of which was the  partnership we formed with Tiyeni, which trains farmers in Malawi to use low-tech, low-cost Regenerative Agriculture methods. 
As of this writing, the 2021 Soil Regen Summit has led to OVER US$100,000 of additional income for Tiyeni! We are extremely proud of the contributions received and connections made by Tiyeni as a result of exposure from this partnership. 
Here are some words of appreciation from Tiyeni Executive Director, Isaac Monjo Chavula: "We thank you for the many encouraging messages we have received from many people who wished us success during The Soil Regen Summit 2021, some also donated their resources to make our work possible. To all those we say: THANK YOU!"
How does Tiyeni Use the Donations?
So many people in Malawi will benefit directly and indirectly from these funds:
Donations received by Tiyeni will provide training for at least 1,320 farmers for life!
More than 750 donations were made to Tiyeni before, during, and after the summit: 
Approximately US$51,000 in summit attendee donations

Approximately US$15,000 in summit speaker fees pledged

Individual donors raised over US$8,000 in 2021 so far
New US and UK grant funding allows Tiyeni to train hundreds of new farmers to begin Deep Bed Farming, to train 30 new Lead Farmers, and to host open events to reach many more people near the capital of Malawi.
Over US$19,000 received from an American foundation

US$13,600 received from a UK Trust
Countless new connections made by Tiyeni: 
Following the summit, Tiyeni heard from a wide array of people and organizations from South Africa, United States, Haiti, India, Canada, Lebanon, Algeria, Australia, Sri Lanka, and beyond. These connections lead to: 
~900 newsletter sign-ups

Productive collaborations

Inspiring conversations

Opportunities for growth
Tiyeni Empowers Malawian Men and Women
Well before Tiyeni and The Soil Food Web School connected, Tiyeni was empowering men and women in Malawi to use Deep Bed Farming methods to improve their farmland, the lives of their families, and the health of their environment. (For extensive details see Tiyeni's Research page.) Here are just some of the changes Tiyeni has spurred:
Farmers using Deep Bed Farming (DBF) methods
~20,000 trained by Tiyeni by the end of 2021
Women empowered by DBF methods
53% of DBF farmers are female
Yields increased on DBF farms
Average of 146% higher yields compared to conventional farms
Food insecurity reduced for DBF farm families
Average of 1 additional meal per day
The Partnership with Tiyeni and The Soil Food Web School Continues!
Soil Regen Summit 2022: Farming for the Future is in the works and we are excited to announce that we are once again partnering with Tiyeni. We look forward to learning from and spreading the word about their life-changing programs that teach Malawian farmers Regenerative Agriculture practices. Of course, you don't have to wait until 2022 to support Tiyeni's important work — click here to donate now!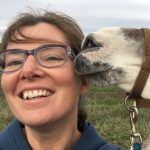 Heather Boright
Soil Food Web School Communications
Heather lives on a 4-acre homestead in the Willamette Valley of Oregon with her husband and a bunch of leafy, feathered, furry, and wooly macroorganisms. (Plus, of course, countless microorganisms.) She has a BSc in Environmental Education from Western Washington University and loves learning and writing about the science of the natural world.