If you attended our 2021 Soil Regen Summit: Hope for the Future, then you are likely familiar with Zach Weiss, Founder & President of Elemental Ecosystems. Zach and his team are "mending the earth, one project at a time" by working in harmony with natural systems to renew landscapes around the world.
The start of a new year is traditionally a time of reflection and recommitment to goals. However, many people found 2021 to be a difficult year that left them exhausted. Here's some good news: Zach has assembled a team of talented creatives to build a new platform called Water Stories. The purpose of this project is to empower and inspire people around the world to connect and create a better common future. 
If you need a boost to your New Year's motivation, we hope you'll check out two new videos that Water Stories released ahead of their official public launch later in 2022.  
Video #1:
10 Heroes of Water 
In the first video, Zach features "10 Heroes of Water," past and present, from around the world. These leaders renewed landscapes, revived communities, and led us to a deeper understanding of the essential role that water plays on our planet. 
Some of the leaders on the list, such as Sepp Holzer, Austrian "Rebel Farmer," might be familiar to you. Holzer is known for cultivating landscapes in symbiosis with nature using methods that can be used all over the world. He provides incredible examples of what's possible when humans work with nature: working with water bodies and rocks to create microclimates, he was even able to grow lemons in the coldest part of the Austrian alps. 
Other "heroes" on the list might be less familiar to you, but are no less worthy of attention. Josephine Mandamin, "Grandmother Water Walker," was an Anishinaabe First Nations elder and founding member of the Water Protectors movement. From 2003 – 2017 she walked around the Great Lakes and related Indigenous lands to bring awareness to the problems of environmental degradation and water pollution in that region. 
All 10 of the trailblazers featured in the video utilized their particular life experiences and skill sets to help us understand and heal our communities and natural cycles. You can register here for free access to the video to learn more about this impressive lineup.
Video #2:
9 Ways to Reverse Drought, Restore Rivers, and Reduce Flood and Fire
After you get fired up watching "10 Heroes of Water," you might appreciate a framework in which to ground your good intentions. The "Water Stories" team does a great job of providing just this in their video, "9 Ways to Reverse Drought, Restore Rivers, and Reduce Flood and Fire."
From allowing water to infiltrate into the earth, to planting forests, to achieving water neutrality, this video provides examples of how to direct and focus your energy. Watching this video will change not only how you see water systems, but also how you see your relationship with your human community. You can register here for free access to "9 Ways to Reverse Drought, Restore Rivers, and Reduce Flood and Fire."
More Inspiration in the New Year
We are grateful for the inspiration and information in these videos by Water Stories! Over the next couple of months leading up to our Soil Regen Summit 2022: Farming for the Future, we'll feature more individuals and organizations that are feeding our hearts and minds while they heal the Earth. 
Happy New Year, Soil Enthusiasts!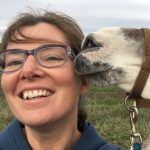 Heather Boright
Soil Food Web School Communications
Heather lives on a 4-acre homestead in the Willamette Valley of Oregon with her husband and a bunch of leafy, feathered, furry, and wooly macroorganisms. (Plus, of course, countless microorganisms.) She has a BSc in Environmental Education from Western Washington University and loves learning and writing about the science of the natural world.