We are excited to welcome Dr. Usman Ali Lawan to present on Day 2 of Soil Regen Summit 2022: Farming for the Future. Today, Usman is an expert in entrepreneurship and agribusiness development, but he experienced many ups and downs on the road to his current success and leadership role in Sustainable Agriculture in Nigeria.  
Growing up in a small, rural town in northern Nigeria, Usman watched with interest as his grandfather worked as a subsistence farmer. His mother, however, made him go to school, so he instead focused on his dream of being an entrepreneur. After going to university and studying Business Administration and Energy Studies, he worked for a time in the oil and gas industry. When that ended in sudden job loss, Usman processed his state of failure, dusted himself off, and decided to return his attention to farming. 
According to the Food and Agriculture Organization of the United Nations, 70% of Nigerians work in agriculture today, mainly at the subsistence level. However, this sector of the economy is far from reaching optimal productivity. Agriculture in Nigeria faces many limiting factors including land degradation, an overly-complex rural land tenure system, low levels of technology, and poor access to markets. If their agriculture system does not improve, Usman argues, then by 2050 Nigeria might only be able to produce 50% of the food its growing population will need.
Modeling Successful Farming in Nigeria
Usman's mission now is to improve the plight of small farmers, and therefore to improve the overall state of farming in Nigeria. One of his goals is to help farmers see that they must expand their focus and skills beyond just growing the crops. He encourages farmers to learn about the complete "value chain" of agribusiness, from soil preparation to packaging to sales. In 2017, Usman told the Young African Leadership Initiative, "In Nigeria, a lot of the farmers only apply skills that have been handed over to them by maybe their parents from several, several generations, and you find out that these processes might have worked in the past, but the world has moved on, and if you want to improve productivity, then you need to have more training to gain more skills." 
Usman founded two organizations to exemplify and educate about more productive agribusinesses. He began in 2013 with USAIFA International Limited, which began as a 350-bird poultry farm and expanded its capacity to 38,000 birds and 100,000 catfish. This venture implements sustainable practices and helps train rural and young farmers. Additionally, USAIFA facilitates credit and farm extension services to help a network of 7200 farmers improve their productivity.
His second venture is Farmer In Suit, a crowdsourced funding platform which aims to link rural farmers with financial sponsors so the farmers can access credit, extension services, and expanded markets for their products. The farmers can increase their productivity and improve their livelihoods while the sponsors share in the profits.
Usman's Focus at Soil Regen Summit 2022
On Day 2 of Soil Regen Summit 2022, Usman will present "Social Entrepreneurship: A panacea to building sustainable and profitable agribusiness ventures in Sub-Saharan Africa" This talk focuses on how USAIFA is using web and mobile technology to help farmers in Nigeria increase their productivity and improve their livelihood by adopting sustainable farming practices.
We hope you'll join us for his presentation, as well as the live panel and meet-n-greet sessions he'll take part in the same day. We look forward to learning more about Dr. Usman Ali Lawan's work.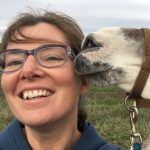 Heather Boright
Soil Food Web School Communications
Heather lives on a 4-acre homestead in the Willamette Valley of Oregon with her husband and a bunch of leafy, feathered, furry, and wooly macroorganisms. (Plus, of course, countless microorganisms.) She has a BSc in Environmental Education from Western Washington University and loves learning and writing about the science of the natural world.