The Soil Food Web School Team is preparing with excitement for our Soil Regen Summit 2022: Farming for the Future, scheduled for March 15-18. But before we move on too quickly, we'd like to review the exceptional gathering of leaders in Regenerative Agriculture and Ecosystem Restoration that was the Soil Regen Summit 2021: Hope for the Future in support of Malawi-based charity, Tiyeni.
Day 1: Healthy Humans, Healthy Planet
From enlisting soil microbes to harnessing biochar to engaging in the water cycle, there are many ways we can partner with natural systems to improve the health of the Earth and, therefore, human health. On day one, the speakers provided practical guidance on working thoughtfully and productively while healing the damage that we have done to our planet.
Day 2: Regenerative Agriculture Success Stories
From Africa to Asia to Europe to the Americas, farmers of diverse backgrounds benefit from applying regenerative agriculture practices. On the second day of the summit, the speakers shared inspiring stories of large- and small-scale triumphs in sustainable farming.
Day 3: The Importance of Having Fun-gi
Our fungal companions do more than we know—or maybe even imagine—to protect, enhance, and regenerate our ecological systems. Day three's speakers encouraged us to appreciate more deeply the powerful importance of fungi, and showed us how we can mobilize it in our agricultural projects.
Day 4: Hope for the Future…Is There Any? 
If you had trouble choosing from the cornucopia of the previous days' presentations, start here with a highlight reel curated by Dr. Adrienne Godschalx! And to end the summit with positivity, Dr. Vandana Shiva, Walter Jehne, John D. Liu, and Dr. Elaine Ingham shared stories of specific projects, places, and actions that fill them with optimism. 
We invite you to take time to explore these presentations, whether or not you joined us at the time of the original event. Our wish is that they provide you with information, inspiration, and HOPE for the future.
Soil Regen Summit 2021
Schedule and Speakers
Here's a list of each of the speakers with links to external sites with information about their work. Visit the Soil Regen Summit 2021 website to view the video replays of all of the summit sessions. Access is free so please share this link with your friends!
Day 1 Sessions: Healthy Humans, Healthy Planet
Dr. Vandana Shiva

, There Really is Hope for the Future

Dr. Elaine Ingham

, How Soil Biology Works

Colin Andrews

, Doubling Yields And Preventing Soil Erosion In Sub-Tropical Conditions

Ray Archuleta

, Biomimicry: Emulating Nature's Principles And Strategies For Improving Soil Function

Mark Shipperlee

, Introduction To Biochar – A Soil Improver And Soil Lockdown

Zach Weiss

, Restoring The Water Cycle To Regenerate Earth

Didi Pershouse

, Soil Health As Public Health

Dan Kittredge

, Optimising Nutrient Density

Live panel discussions:

Dr. Elaine Ingham and Didi Pershouse

Colin Andrews, Mark Shipperlee, Zach Weiss, and Walter Jehne

Breakout sessions:

Colin Andrews

Mark Shiperlee

Walter Jehne

Zach Weiss

Didi Pershouse

Dr. Elaine Ingham

Day 3: The Importance of Having Fun-gi

Day 4: Summit Highlights & Fireside Chat
Dr. Vandana Shiva,

Walter Jehne

, John D. Liu, and Dr. Elaine Ingham. Hosted by Dr. Adrienne Godschalx. Hope For The Future – Is There Any?

Dr. Adrienne Godschalx, Summit Highlights Reel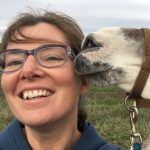 Heather Boright
Soil Food Web School Communications
Heather lives on a 4-acre homestead in the Willamette Valley of Oregon with her husband and a bunch of leafy, feathered, furry, and wooly macroorganisms. (Plus, of course, countless microorganisms.) She has a BSc in Environmental Education from Western Washington University and loves learning and writing about the science of the natural world.