A Brief Synopsis of a Very Comprehensive Report
by Dr. Adam B. Cobb, Soil Food Web School Content Creator & Science Communicator
.
During several of our webinars, I've shared how I previously held a relatively industrial agriculture mindset. Since joining the Soil Food Web School, I rediscovered my regenerative roots and invested time to enhance my conceptual framework. So, I'm always excited to see examples of academics and government agencies shifting their policies and evidence-based recommendations toward farm and ecosystem management practices that support thriving soil food webs (also called microbiomes).
I like to call the beneficial microorganisms our "tiny soil allies," and educator and soil sponge strategist, Didi Pershouse, calls them the "essential biological workforce of the planet." More and more, people are catching on to the key services provided by the wonderful critters in the soil food web. In fact, a Food and Agriculture Organization (FAO) report from earlier this year is a great example of how mindsets are changing for the better, as the benefits of healthy soil microbiomes come to light.
Five Key Points from A Review of the Impacts of Crop Production on the Soil Microbiome
The FAO's informal "microbiome working group" produced this report to explore scientific evidence across more than 2,000 publications and determine links between agricultural production practices, soil microbiomes, and the potential consequences of soil management on global climate systems and human health. Their report provides a strong foundation for discussions of agricultural policy and soil regeneration methods. You can read the full report here or the executive summary here. Let me break down five key points:
Comprehensive scientific and social strategies are needed to address interconnected global challenges, such as climate change, poor human health and nutrition, soil loss, and environmental degradation. Ultimately, addressing these issues requires the emergence of a sustainable bioeconomy that – in contrast to our current economy – produces goods and services in ways that are compatible with biodiversity, ecosystem functions, and resilient human communities.
Healthy soils, teeming with beneficial soil microorganisms are the foundation of a sustainable bioeconomy, especially in agricultural and food systems. However, there is a looming global crisis of soil erosion and degradation (around 12 billion tonnes of soil are lost every year). Therefore, identifying and overcoming knowledge gaps about optimal soil management is a vital priority for the future of humanity.
Key soil functions that sustain life on earth include water purification, flood and climate regulation, provision of food, carbon storage, nutrient cycling, and many other important ecosystem services. Therefore, land management designed to support thriving soil microbiomes is a keystone strategy, because soil microorganisms play a pivotal role in ecosystem and agroecosystem health. Future research must focus on the contributions of diverse soil microorganisms to crop nutrient management, soil carbon storage, improved plant health, and connections between the soil microbiome and human health.
Many farm practices that are common in industrial agriculture (such as tillage, monocropping, inorganic fertilizers, pesticide use, and crop breeding for high input systems) are associated with negative alterations in the soil microorganism communities. Conversely, solutions based on natural systems and agroecology (such as the application of microbial bioinoculants, organic fertilizers, substantial plant diversity, and reduced tillage) generally have beneficial effects on soil microbiomes.
Policymakers–and the citizens they answer to–should prioritize increases in funding for soil microbiome research and public education, as well as communication about soil ecology and regenerative practices. Additionally, the commercialization of soil microbiome innovations should be prioritized, including improved land management practices, and biological soil products and services. Finally, there should be enhanced regulation of farm production activities and industrial activities that negatively impact soil microbiomes.
Overcoming the Imagination Gap for Sustainable Soil Management
This report is my new favorite source of evidence supporting what we're doing at the Soil Food Web School. Our community affirms many of the principles and philosophies that the FAO recognizes are the future of agriculture and land management. I hope this report is one more step toward overcoming the imagination gap that often prevents people from revising their mindsets from industrial to regenerative thinking. If I did it, so can they!
.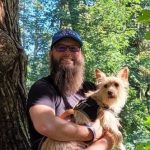 Dr. Adam B. Cobb
Content Creator & Science Communicator
Adam's passion for agriculture emerged in 2008, during his three months of volunteer work on organic farms in New Zealand. His time in graduate school cultivated a broad vision for the restoration of living soils, as well as utilization of research and community engagement to address current and emerging global food production challenges. After completing his doctorate at Oklahoma State University in 2016, he was funded as a Postdoctoral Research Fellow and Instructor. During the past 5 years, Adam authored or coauthored 20 research publications focused on agroecology and plant-microbial symbioses. He also taught multiple undergraduate and graduate courses on global food security, restoration ecology, and environmental science. He joined The Soil Food Web School in 2021, following his dream to help regenerate soils, improve human nutrition, and protect our planet.