Late in October, Dr. Elaine Ingham, founder of the Soil Food Web School, and Dr. Adrienne Godschalx, Soil Food Web School Mentor, travelled to Washington DC to raise awareness about Regenerative Agriculture and the importance of soil biology.
They joined Dr. Tim LaSalle, a farmer and co-founder of the Center for Regenerative Agriculture and Resilient Systems, and Jeffrey Smith, an advocate for protecting soil biology and founding executive director of The Institute for Responsible Technology.
Elaine, Adrienne, Tim, and Jeffrey met with a diverse mix of congressional staffers and also presented to an audience of ~2,000 (virtually and in person) at the National Press Club. (This presentation is available for replay here.)
The High Level Benefits of Regenerative Agriculture
Their goal for this trip was to lay the groundwork for deeper understanding about the benefits that Regenerative Agricultural practices can bring to farmers and to the planet as a whole. These benefits include:
Restoring and perpetuating the health of living soils 

Enhancing environmental and economic resilience

Making farming profitable

and

ecologically sustainable at all scales

Achieving food security for communities and nations

Preventing ecosystem collapse

Providing healthier, toxin-free food for consumers
Breaking Down Soil Biology and Regenerative Agriculture Basics
The team covered a variety of focused topics with their audiences: 
Barriers to transitioning to sustainable methods

Critical threats to soil health

and more!
Policy Changes are the Long Term Goal
Their overall message was met with great interest and enthusiasm as well as invitations to meet with more groups. Given the success of this first joint foray inside the Capital Beltway, the team plans to return to DC again (and again?) to bring these topics to a wider audience. Can their input contribute ultimately to wide-ranging changes in agricultural and environmental policy? We hope so. Stay tuned!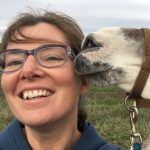 Heather Boright
Soil Food Web School Communications
Heather lives on a 4-acre homestead in the Willamette Valley of Oregon with her husband and a bunch of leafy, feathered, furry, and wooly macroorganisms. (Plus, of course, countless microorganisms.) She has a BSc in Environmental Education from Western Washington University and loves learning and writing about the science of the natural world.