We are delighted to welcome Courtney P. Brown to share her insights and experiences at the Soil Regen Summit 2022; Farming for the Future! Courtney is a Strategic Consultant, Agriculture Advocate, and PhD Candidate at Oklahoma State University. She is also an Advisory Board member for the Selfless Hand Foundation. Since her childhood in Tennessee, Courtney developed a deep connection with agriculture. She earned her B.S. degree in Agriculture Science with a minor in Communications Arts from Austin Peay State University, followed by an M.S. in Agricultural Communications from Oklahoma State University. After completing these programs, she was inspired to build on the work she'd been doing with limited resource farmers and underserved communities. That led her to found AGSPOSURE.
What is AGSPOSURE?
The mission of this nonprofit organization based in Oklahoma City, Oklahoma is "Using agriculture to increase health and wealth in all areas of life for socially disadvantaged people." Communication about the history of African American Agriculture, as well as the importance of maintaining and growing land ownership in the African American community, are central to the programs of AGSPOSURE. 
These programs are structured around three initiatives: Exposure, Education, and Empowerment. AGSPOSURE introduces historically marginalized communities to positive opportunities in the field of agriculture. They provide education on financial and career skills, as well as health and nutrition topics, building a toolkit of skills for success. Finally, the organization empowers individuals and communities with a sense of pride and confidence to create innovation and support. 
One simple but powerful, hands-on project for youth is their "Power Pot" Gardening Kits. These kits include a terracotta pot, potting soil, and starter seeds. Recipients personalize the pots with painted images and inspirational quotes. Then they fill the pots with soil, plant the seeds, and nurture the plants. This experience of tending a plant from seed to maturity in their own homes is an essential first step toward connecting young people with agriculture.
Courtney's Focus at Soil Regen Summit 2022
On day 2 (Wednesday, March 16) of the Summit, Courtney will present "Making the Connection: African American Agriculture & Regenerative Solutions." She will review some of the many historically significant contributions to agriculture made by African Americans, and contrast the importance of those contributions with the dramatically small number of African American farmers today. She will outline barriers to success in this community: disparities in the areas of wealth, health, food access, and land ownership. Courtney will also highlight several aspects of the regenerative agriculture movement that can serve as a catalyst for social change, and help combat the challenges that plague the African American community today.
Please join us for Courtney's presentation at Soil Regen Summit 2022, as well as the live panel and meet-n-greet sessions she'll participate in on the same day! We look forward to learning more about Courtney's work.
Soil Regen Summit 2022: Farming for the Future is live on March 15-18. https://www.soilregensummitcollection.com/
Header photo: AGSPOSURE participant group and Courtney P. Brown. (Photo courtesy of Courtney P. Brown.)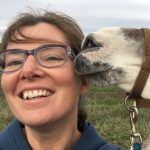 Heather Boright
Soil Food Web School Communications
Heather lives on a 4-acre homestead in the Willamette Valley of Oregon with her husband and a bunch of leafy, feathered, furry, and wooly macroorganisms. (Plus, of course, countless microorganisms.) She has a BSc in Environmental Education from Western Washington University and loves learning and writing about the science of the natural world.